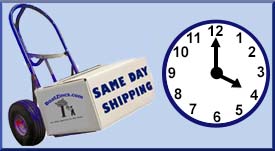 We Make Ship Fast™
We are committed to ship every order the same business day if received before 4:00 PM ET Monday through Friday.
We provide FREE SHIPPING for orders over $100.00 to any destination within the United States, to FPO and APO addresses, or to one of the U.S. territories/possessions (e.g., the U.S. Virgin Islands, American Samoa, Micronesia, Guam, Marshall Islands, Northern Mariana Islands, Palau).
We ship all orders via: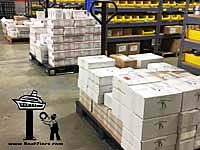 United States Postal Service (USPS)
Priority Mail Flat Rate Service, or


United Parcel Services (UPS) Ground.
Shipping fees only apply if your order is under $100.00, or if you select an expedited shipping service.
Your order is on its way!
How to Calculate Your Shipping Charge
Follow these simple steps to calculate shipping on your order.
Once you have entered all your items into the Shopping Cart, scroll about 1/2 way down the page and you will see the Shipping Calculator.
For U.S. Orders, enter your Zip Code, select United States, and select the Shipping Method from the drop-down box, then click 'Apply'.
For International Orders, enter your Zip Code or 00000 if your country does not use zip or postal codes, select your country from the drop-down list, select International Mail as the shipping option, then click 'Apply'.
Immediately after you submit your order an Order Confirmation will be sent to your email address. You will then receive a second email that confirms the shipment and provides a tracking number that can be used to monitor the shipment's progress at at usps.com or ups.com. USPS tracking numbers start with "9405", while UPS Ground tracking numbers start with "1Z0A". USPS Priority Mail International packages have tracking numbers that start with "CJ".